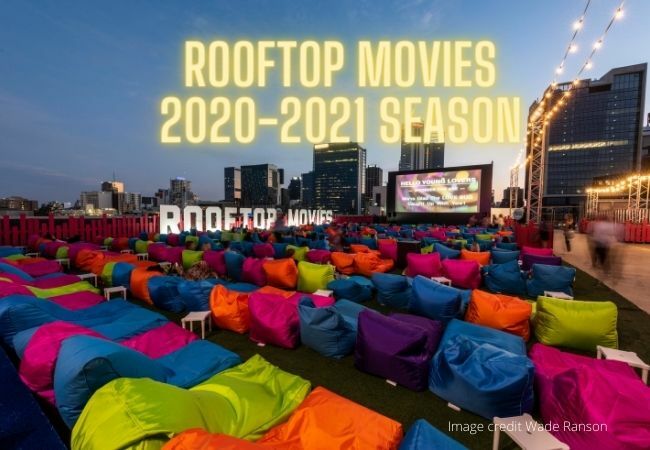 One of the very best ways to spend an summers evening in Perth, is at the Rooftop Movies. Lazing in a bean bag with a belly full of freshly cooked pizza and a wine in hand, you can easily get lost in the lights of the city, or just zen out, but then there's the movie to watch. The 2020 program is out and there's plenty to like.
By way of explaining how good this venue is … this year as we lined up for the media night whispers went around about the movie we were going to see. No one could remember.
Turns out there wasn't one. A bit unusual you might think. Instead this night included mouth-watering pizza from Mack Daddy's New York Slice, drinks thanks to our partners Gage Roads Brewing Company and MadFish Wines, plus live DJ entertainment from Miss Estonia.  While the music played we watched an extensive show reel of the best bits of movies. It was an excellent night of reminiscing and guessing the movie. So even without an actual movie, the Rooftop Movies was a success. But I digress.
Getting to the venue is simple, just park in the Roe Street carpark then take the lift to the roof. As the sun slowly goes down you can grab a pizza and a drink or several safe in the knowledge that there are now toilets on the roof too. All that remains is to check out the Perth skyline, grab a seat and get ready for the sky to darken. Movies start around 8pm.
Talking about seats you can pick from single bean bags, double bean beds (with you know your date well enough) or a few lay-back chairs in the back row.
The first program is out, an eclectic mix of old and new as usual – Rams, Dirt Music, Spy Kids, Dune, Baby Done (see my review), Speed, The Nightmare Before Christmas to name a few.
My tip: Make sure you take a jacket, yes even on a hot night as it can get chilly.
You might be interested to know they also hold yoga and the space can be hired out for functions.
Tickets: online prices – $18 unreserved bean bags – $50 for the double-beanbag in the premium lounge – $20 for unreserved chair seating.
For more information go to Rooftop Movies.