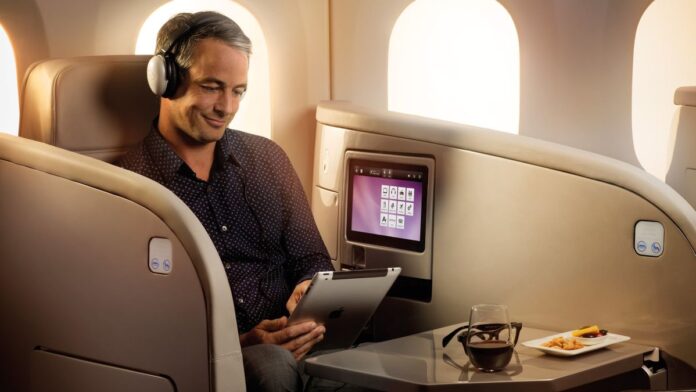 Air New Zealand's all-new business class could include an upmarket Row 1 experience compared to the rest of the Business Premier cabin.
The move would see the Kiwi carrier join the handful of airlines offering a 'business plus' section instead of fully-fledged first class.
Air New Zealand has been plotting a replacement for its circa-2005 sleeper for several years, and in 2018 invited selected passengers – including many who regularly fly on AirNZ's longest routes to North America – to trial a mock-up of the seat under lock and key at the airline's 'Hangar 22' product development facility in Auckland.
That seat was intended to grace Air New Zealand's Boeing 787 and 777 jets from from 2022, and while Covid-19 has thrown the airline's fleet plans and international network into disarray, it's still looking ahead to the post-pandemic era.
A recent survey sent by the Star Alliance member to selected customers, among them an Executive Traveller reader, now notes the airline "has the option to enhance the experience for those that booking the front row in Business Premier."
It also provides hints of what the rest of the business class cabin will look like, and potentially the seats chosen by the airline.
The survey says that compared to the rest of the Business Premier cabin, the front row would offer
more legroom

a shared dining experience

greater privacy "than our other seats on the plane, in that no one looks into your space"
There's no indication that the food and drink service would be different, although there's plenty of time for the airline to finesse this 'first class lite' proposition.
A Row 1 rose, by any name
Respondents to the survey were also asked to rate a number of marketing names under which this front row experience would be promoted and sold:
Business Premier Alcove

Business Premier Deluxe

Business Premier Retreat

Business Premier Plus

Violet Suite
Regardless of the name, these primo pews would presumably come with a higher asking price in dollars or frequent flyer points, although they could also make a wonderful 'surprise and delight' upgrade for Airpoints Elite Priority One (and potentially Elite Plus) members.
Although there have been no leaks regarding Air New Zealand's new Business Premier seat, the description of an enhanced 'front row' matches the VantageFirst design by Thompson Aero and London-based Factorydesign, which is an add-on to Thompson's Vantage XL business class seat (the same seat already flown by Qantas, among many other airlines).
'Front row first class'
As Thompson's website explains, "VantageFirst offers airlines the opportunity to provide a true first class product whilst maintaining the same density as a traditional 'all business class' cabin."
The design affords "private personal space for relaxation, fine dining or sleeping… with optional sliding suite doors and central adjustable privacy dividers to enhanced levels of privacy."
There's also a 'buddy seat' which "enables passengers travelling together to enjoy a fine dining experience."
Malaysia Airlines worked with Thompson and London's Factorydesign to customise the concept for the KL-based carrier's Airbus A350 first class, which was later rebranded to Business Suites.
China Airlines adopted the VantageFirst as the "Air Living Room" on its Airbus A350 and Boeing 787, showcasing what Factorydesign describes as integrating "a seat with a first class footprint with a business class cabin, which allows airlines to offer a premium product up front in the cabin without losing out on passenger count."
This is not to suggest that Air New Zealand has chosen Thompson to supply its new Business Premier seats, as the 'first row, first class' concept can be adapted by other seat designers and manufacturers.
However, it certainly provides a clearer picture of what the airline has in mind.
Noting that Air New Zealand cites "a shared dining experience" as a key feature of its Row 1 product also implies that the rest of the new Business Premier seats will lack the long-standing companion dining option of its current business class.
Likewise, if Row 1's increased privacy is because "no one looks into your space", this indicates the airline's current thinking is that none of the business class seats – regardless of what row they're in – will come with sliding doors.
Executive Traveller approached Air New Zealand for comment but had not received a reply when this story was published.
As previously reported, the Kiwi carrier is also drawing up plans to bolster the appeal of its Airpoints loyalty program. Options on the table include a new top-rung Elite Plus tier, added perks for Elite members and the introduction of lifetime status.
Flying with Air New Zealand? Don't miss our round-up of Australia's best Airpoints credit card sign-up offers, so you can earn Airpoints Dollars to book any seat on any AirNZ flight.